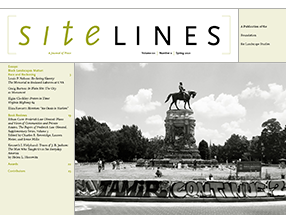 Published biannually, Site/Lines is a donor-supported publication containing essays on landscape themes, reviews of books, and profiles of "Place Makers" and "Place Keepers."
The journal's definition of landscape is a broad one. It embraces park and garden history, theory, and design; city planning; and the cultural interpretation of ordinary landscapes. The social life of landscapes is a significant part of its purview. Site/Lines also covers the portrayal of landscape subjects in the fine arts, including the art of photography, as well as the practical disciplines of landscape architecture and landscape management.
You may download PDF versions of Site/Lines by clicking on the links below. To receive a print copy, please click here.
There is no subscription fee for Site/Lines; however, to cover the cost of printing and mailing, tax-deductible contributions are encouraged. To support this journal with a voluntary contribution, please click here.
> Spring 2021: Black Landscapes Matter: Race and Reckoning
> Fall 2020: Ritual, Refuge, Reverence, and Reflection: Landscapes of the Soul
> Spring 2020: With New Eyes: Seeing the Landscape with J. B. Jackson
> Fall 2019: Designing for Wellness: Therapeutic Landscapes
> Spring 2019: Landscapes of History
> Fall 2018: The Landscapes We Call Home
> Spring 2018: Landscapes of Trees
> Fall 2017: Transforming the Planet: Landscape as Habitat
> Spring 2017: Landscapes of Reason and Revolution
> Fall 2016: Linear Landscapes: Passing Through Places
> Spring 2016: Landscapes of Ruin
> Fall 2015: Landscapes of Literature
> Spring 2015: Landscapes of the American West
> Fall 2014: Landscapes of Drink
> Spring 2014: The French Connection
> Fall 2013: Landscapes of Stone
> Spring 2013: Landscapes of Institutions
> Fall 2012: Island Landscapes
> Spring 2012: West Coast Landscapes
> Fall 2011: Landscapes of Water
> Spring 2011: Landscape as Food
> Fall 2010: Landscape as Monument
> Spring 2010: The High Line
> Fall 2009: National Parks
> Spring 2009: Classical Landscapes
> Fall 2008: Japanese Gardens
> Spring 2008: Industrial Sites Reborn
> Fall 2007: Robert Moses
> Spring 2007: New Orleans
> Fall 2006: Botanical Gardens
> Spring 2006: Park Muskau
> Fall 2005: Wright, Noguchi, Larsen
> Spring 2005: Lower Manhattan
> Fall 2004: Italian Villa Gardens
> Spring 2004: Garden Gnomes
> Fall 2003: Central Park